I have defined Social Networking and given examples as to how it can be used in education. I have discussed pedagogical applications and how these translate to both the physical and virtual classrooms. I want to conclude with the benefits of Social Networking because I am a glass half-full gal who likes to
focus on the positives. Do not mistake me, I am a full supporter of risk mitigation, but since writing these Research Journals for ELPCG1, I have become a pretty passionate proponent for using 21st Century teaching techniques.
This post discusses research analysing the benefits of social networking. Refreshingly, this research found the "challenges and risks have been over-emphasised in recent years, both in popular media and social research". (p.21, 2010). I use the term "refreshingly" because I have noted the tendency for some people to demonise social networking as the devil. It reminds me of 1950's attitudes to Rock n Roll. Or perhaps its virtual McCarthyism. (Disclaimer: the author read about these historical events. The author was not alive when they occurred. She may have been alive shortly afterwards though.)
In any case, as a teacher I hope to use all available tools to engage my students. They are  21st century learners, remember? However, it is imperative that I consult scholarly opinion on both my teaching methods and resources. It is not enough to say that I believe social networking has benefits, it is far better for me, my school administration and my
students and their parents, to draw upon peer-reviewed work that is available. Nor should we hoard that lovely intelligent literature in our staff rooms but make it readily available to our school communities…perhaps you could start a forum where parents, teachers and students could debate its effectiveness. See how I did that? Social networking is already at play.
The diagram below maps out the 'interconnectedness of connecting' with our students and our students connecting with each other.  These are the findings of the research project. The basic tenet is that the use of computers for social networking encourages digital skills, etiquette, creativity, education possibilities outside our classrooms, and the ability to connect on a global and intergenerational level.  It is also important to note that the corporate, consumer and tertiary academic world are already operating in these environments.
What is our mandate as teachers? I believe it is to equip our students with the skills to enter their world. Our world. The 21st Century world. For this generation, the lines between society are blurring. On-line worlds are melding with off-line worlds.(pp. 17-18, 2010). If we do not equip them with digital literacy and etiquette, how do they become discerning, skilled and appropriate members of that world?
The best part of that statement, is you don't even have to take my word for it. You can go to the academic source, educate yourself in the discussion and start to take part. Your students will thank you for the opportunity to participate.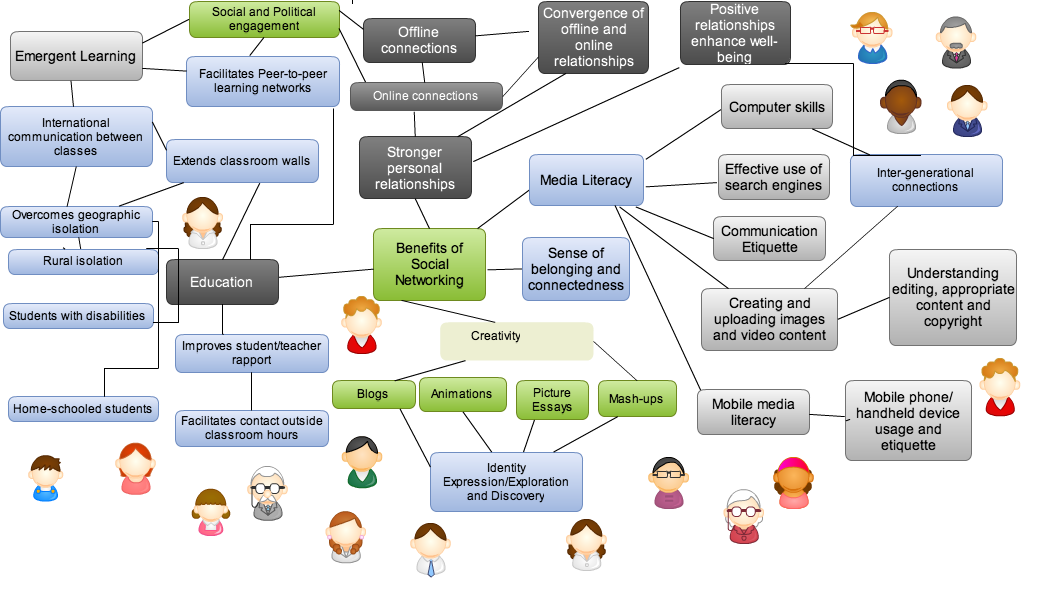 Resources
Collin, Dr. P.,  University of Western Sydney,  Rahilly, K., Inspire Foundation, Richardson, Dr. I., Murdoch University, Third, Dr. A., University of Western Sydney. The Benefits of Social Networking Services. (2010). Literature Review, ISBN: 978-0-9871179-1-5.